Story and Photos by Lex Nelson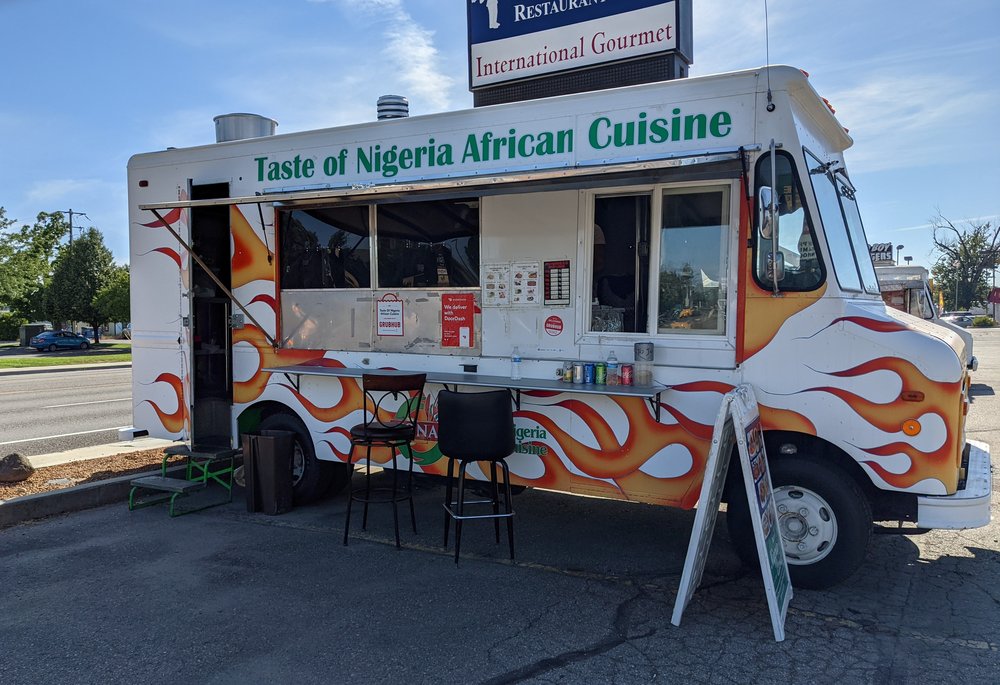 The Taste of Nigeria African Cuisine (TONAC) food truck sits on the curb of Boise's busy Fairview Avenue, parked between a Big Smoke and a Standard Restaurant Supply. The flames painted on its side matched my mission: to try a dish of hot food: specifically, the Nigerian specialty jollof rice.
Zainab Abimbola, who runs TONAC food truck, has been cooking jollof rice since she was a young girl. In her home country of Nigeria the dish brings families and neighbors together, bringing excitement and sometimes jealousy in its wake.
"You can't do without it at a party," she said. "…Back home if we cook jollof rice, the smell will go so far. Like, 'Oh, someone is cooking jollof rice there!' and everyone will be like, 'Oh, I wish I could eat that!'"
Abimbola makes her jollof rice with tomato paste, thyme, curry, and a touch of habanero pepper. But she had a word of caution for those attempting the dish at home using one of the hundreds of recipes found online: "If you don't really know how to cook it, you won't get it right."
Eater magazine agrees, reporting that "jollof is more than its ingredients. The cooking process is intricate, the order in which you add the ingredients matters, and the person making it matters the most."According to Eater, jollof rice dates back to the 1300s, where it was called "thiéboudienne" by citizens of Senegal's ancient Wolof empire. Rice, tomatoes, onions, oil, habanero peppers, tomato puree, stock cubes, thyme, curry powder, ginger, and garlic are staple ingredients.
When I stood outside TONAC's window, there was no question that I'd order the jollof rice with chicken ($9). But I was tempted by the other dishes on offer, including meat pie, fried plantain, chin-chin (sweet fried pastry bites), and pounded yam and egusi soup (a vegetable-forward soup thickened with ground melon seeds). When I ordered the yam porridge, Abimbola peered down at me, sizing me up.
"Mmm," she said. "Too spicy," adding that if I was going to try it, I'd need plenty of water. I didn't know it yet, but one of Abimbola's favorite parts of her job is recommending dishes to her customers.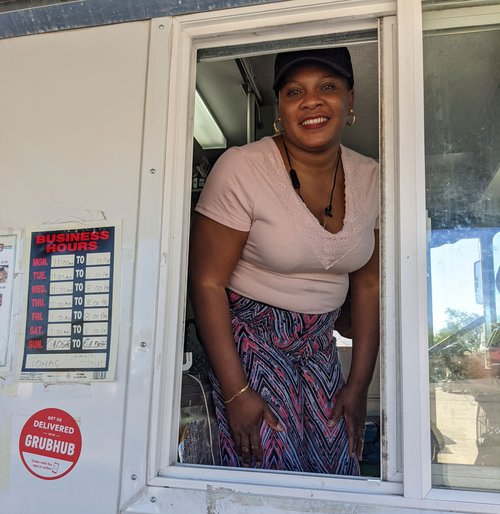 I decided to go with her gut. Less than 10 minutes later, Abimbola handed my jollof rice through the window. She serves it with chicken, which is often (but not always) coated in the same savory, tomato-forward sauce used to cook the rice. The smell wafting from the plastic bag was mouthwatering.
I sat in the shade at the food truck's small metal bar and dug in immediately. The rice was rich and savory with a hint of sweetness, and chunks of sauced chicken fell off the bone under my fork. A few yards away traffic thundered by, the occasional motorcycle whine or semi-trailer wind rattling the food truck. My mouth grew pleasantly hot. I ate the whole dish and pulled the last of the meat from the chicken leg with my teeth, licking my fingers clean.
To hear her tell the story, Abimbola had no option but to learn her way around the kitchen.
"Back in Africa as a lady you have to know how to cook," she said, adding, "… If your mom is cooking you have to stay in the kitchen. You don't go anywhere! You have to face what she's doing, because next time she'll say, 'Go and do it!'"
Instead of resenting this tradition Abimbola leaned into it and started working at a catering company in Nigeria. She moved to the U.S. 10 years ago and opened TONAC in 2019 to share her culture with her new pizza and burger-loving neighbors. Eventually, she told me, she hopes to have a brick-and-mortar space and enough of a following to serve more dishes she loves, like Àmàlà — a mashed potato-like dish made with blended black yam. But for now she sticks to the favorites, jollof rice chief among them.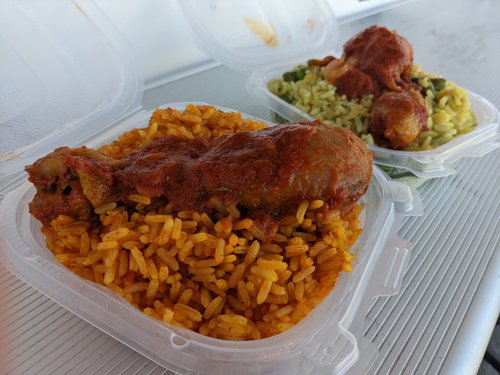 "We have different kinds of food in Nigeria, and lots of them, but because jollof rice is very popular everybody wants to go for jollof rice," she said.
I didn't have to take her word for it. While I ate, three dark-skinned women came by the truck with their hair tucked under headscarves. They all considered the menu. One ordered the spicy goat meat pepper soup. But they all ordered jollof rice.
"How's your family?" Abimbola asked one woman, leaning out with a smile.
Even in Idaho, jollof rice brings people together.
Jollof rice isn't exclusively a Nigerian dish. It's also popular in Ghana (where it's made with basmati rather than long-grain rice) and other West African countries. But for Abimbola, it's specifically the taste of home.
"Some people are like 'Oh, Ghanian jollof rice is better, Nigerian jollof rice is better,' but I think — and it's not because I'm from Nigeria — that Nigerian jollof rice is better than Ghanian jollof rice," she said, smiling mischievously. "In Ghana they don't really get it."
TONAC is open from 11 a.m.-8 p.m. Monday-Saturday at 6910 W. Fairview Avenue. Diners can also order Abimbola's food on Doordash and Grubhub, although she recommends calling her in advance at 208-971-8293 or 208-440-9526 to find out what she has in stock that day.