Story by Courtnie Dawson; Photos by Marissa Carff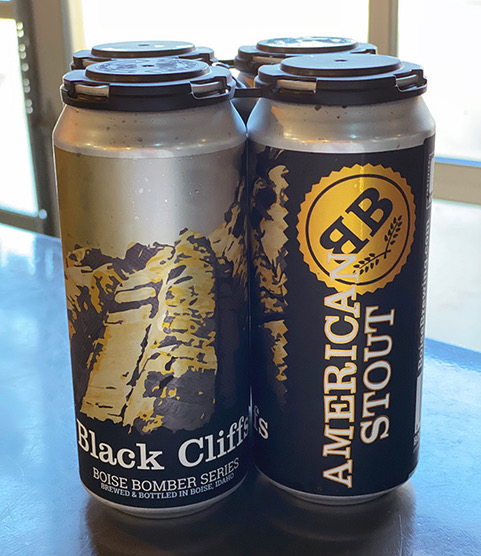 It's 2018 and silence looms over the Boise Brewing taproom. Not because it's empty, but because the staff is holding their breath as they await the results of the World Beer Cup, the most prestigious competition in the brewing industry. The announcer on the livestream barely strings the words "gold award" and "Black Cliffs" together in a sentence before the Boise Brewing crew shatters the tense quiet with cheers of joy, complete with head brewer, Lance Chavez, bear-hugging the joyful winners.
The World Beer Cup Award is certainly prestigious, but Boise Brewing already sports a sizable collection of awards without it. A total of seven awards accompany the Black Cliffs American Stout, spanning five of the six years the beer has been in production, including gold medals from the Great American Beer Festival and North American Beer Awards.
"[Black Cliffs] was our foundation beer. It took about a half hour to write the recipe, and ended up being one of Idaho's most awarded beers," Lance says. "It's great to say our foundation was laid on a world-class beer."

Black Cliffs American Stout was an idea percolating in Lance's brain before the brewery opened its doors in 2014. After perfecting the recipes for their flagship beers, the Boise Brewing team switched gears for their first "Community Supported Beer" line, brews that are gifted monthly to the brewery's investors.
"Black Cliffs was one of the first original recipes crafted for that purpose," Lance says.
Named for the volcanic basalt pillars that attract rock-climbers to the outskirts of Boise, Black Cliffs American Stout was first released in 2014. The recipe, originally written almost seven years ago, hasn't changed a bit in all that time. Crisp Chocolate Malt, a highly-revered English malt, comprises the base of the stout. Known for flavors of silky dark chocolate and roasted coffee, it proved to be a solid foundation for the chocolate component of Lance's vision.
But if Crisp Chocolate Malt is the bass line, the Centennial and Amarillo hops create the righteous guitar solo of Black Cliffs. The subtle pungency of the Centennial hops, and the sweet citrus of the Amarillo hops meld together into a brightness that balances the malt, creating a stout that gives the impression of a black IPA.
"I was aiming for a dark and hoppy beer," Lance says. "I wanted those roasty, coffee flavors and dark chocolate notes to balance with the piney, citrusy hop backbone."
Customers and judges alike have responded to this beer with great waves of admiration. Bittercreek Alehouse's general manager and beer director, Cody Meurer, has great respect for Black Cliffs, based as much on its quality as its many accolades.
"As a stout, it checks off every box. Plenty of good roast, slight hoppiness, a good alcoholic backbone," Cody says. "But more than that, [Black Cliffs] just knocks it out of the park. It's everything you want in an American Stout, unabashedly so."
What has made Black Cliffs so successful all these years? Lance says it's all about consistency.
"We pride ourselves on a consistent product, that we have been able to repeat that high level of quality that pulls medals from these competitions."
Bittercreek Alehouse will be featuring Black Cliffs American Stout during Dark Days 2020. The Boise Brewing beer is also available in select stores in 16oz cans.