Story by Lex Nelson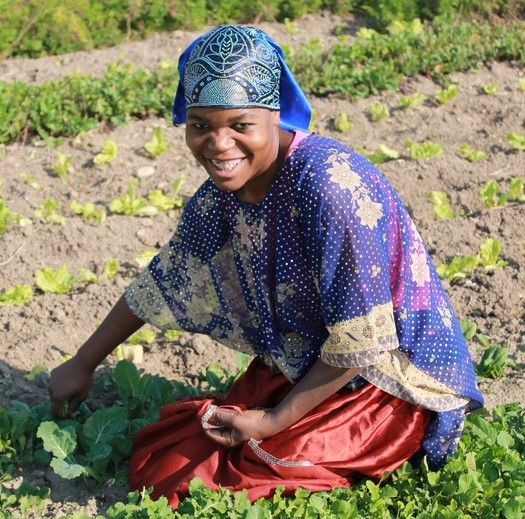 Thirteen percent of people who arrive in America as refugees go on to become entrepreneurs. That's a rate 4% higher than that of U.S.-born citizens, according to a 2015 American Community Survey. Imagine learning a new language, navigating an unfamiliar culture, untangling a foreign financial system, and creating a workable business plan, all at the same time. Now imagine doing it in a quarter-acre farm field during a pandemic. Here in Boise, Global Gardens is helping refugees like Safiya Abdi and Abdikadir Chimwaga accomplish just that.
Global Gardens is a community gardening program run by the Idaho Office for Refugees and Jannus, Inc. Every year, between eight and 15 families participate in its Farmer Entrepreneur Program, planting quarter-acre irrigated plots with produce they can then sell through the Global Gardens Community-Supported Agriculture (CSA) program, the Capital City Public Market (CCPM), and the Boise Farmers Market (BFM), among other outlets.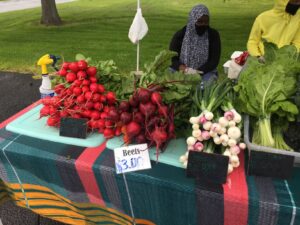 On average, these sales increase family incomes by 20%, but then the COVID-19 pandemic disrupted the system. BFM converted its sprawl of in-person tents to online presales and drive-thru pickup, and CCPM shrank to a sliver of its size and moved to Garden City, drastically paring down Global Gardens' booths. Practically overnight, in-person sales dried up for Global Gardens' 11 entrepreneur farmers.
"[CCPM] doesn't have any traffic. We'll sit there until 2 p.m., we don't even sell veggies," said farmer Safiya Abdi, a refugee from Somalia who, before the pandemic, had progressed to selling her produce under the name Safari Farms. "… [the sales] don't even cover our labor but we still go there for our veggies; we put our energy into it."
Forced to move online or throw their produce away, refugee farmers are facing new hurdles.
"Culturally, our farmers like to interact with their customers," explained Global Gardens Project Manager Rabiou Manzo. "To suddenly tell them, 'Hey, that's not possible' — that's tough for them."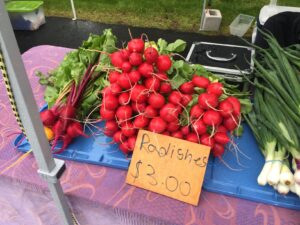 Manzo added that selling online takes a lot of preparation and communication, which is difficult for the farmers to juggle, as many of them also have day jobs. On top of that, Global Gardens had to adjust its operations, putting social distancing in place at its shared gardens and translating safety tips into multiple languages. All of these factors slowed down the flow of produce. Abdi, for example, wasn't able to list her produce with BFM until July — three full months after the market started.
"It's tough," she said. "Every time I need to put something [online] I have to go back to Global Gardens or have another training helping me out."
While the farmers jump through these hoops, vegetables rot unpicked in the fields. Though Global Gardens has never had a zero-waste supply chain, 2020 has been particularly tough.
"This year we have a lot of food that is waste. So [much] food," said Abdi Chimwaga, another refugee farmer from Somalia who sells through BFM and the Global Gardens CSA.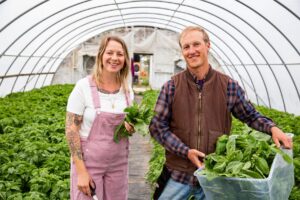 Meanwhile, farmers born in the U.S. are facing many of the same hurdles. Jackie and Mike Sommer of Purple Sage Farms in Middleton fall into that group, despite having online sales experience. They've operated an Etsy store for dried herbs since 2018 and supply grocery stores in Boise and Jackson Hole, Wyoming, but still find themselves struggling to match 2019's sales without the outlet of the in-person BFM. Having planned for an increase in sales and planted accordingly, the Sommers are overwhelmed by unwanted produce.
"We just gave away like 400 pounds of cauliflower to Rolling Tomato [a local food recovery service] and 50 pounds of cucumbers to distribute to folks," said Mike Sommer. "Otherwise they would have been thrown in the compost."
Both Purple Sage Farms and Global Gardens are adapting as fast as they can. The Sommers have ramped up their Etsy store and are selling as much as possible through the BFM drive-thru. They're also considering starting on-farm CSA pickup, and shifting their product line away from vegetables to grow more herbs, which can be dried and preserved rather than donated. The one bright spot of the new BFM system, Mike said, is finally having Saturdays off.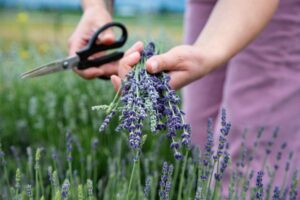 Meanwhile, Global Gardens expanded its popular CSA program this year, adding pop-up markets and a delivery service to help its produce reach more customers. Once a week, Chimwaga spends 6-7 hours dropping off shares. Manzo also plans to add additional training in online sales to the program's winter schedule in anticipation of another tough year in 2021. He hopes this initiative will help more Global Gardens farmers resume selling through BFM (only six out of 11 currently do so). Perhaps they'll even see the upside of online sales that Chimwaga points out, like being able to harvest to order and get customers the exact product they need.
"[Global Gardens] tries their best. It's a little tough sometimes, but they try their best and we try our best too, to provide our produce," Chimwaga said. "… Every business might be a little challenged [by COVID-19]. But still, at the end of the day, everybody will pick up."
To learn more about Global Gardens and Purple Sage Farms, visit their websites: GlobalGardensBoise.org and PurpleSageFarms.com.