By Courtnie Dawson
Photos by Guy Hand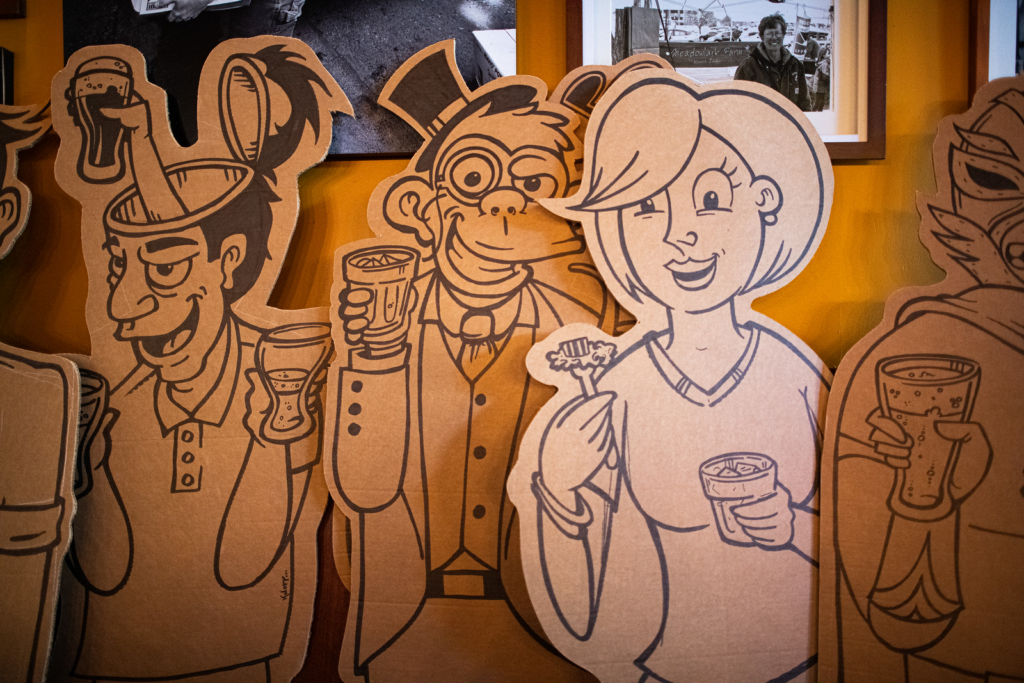 The heavy smell of ink accompanies the squeak of a Sharpie as Kelly Knopp draws thick lines across a slice of cardboard. The rest of this unusual crowd surrounds the Boise artist as he draws, some faces standing out more than the others (for example, the giant smiling fish head.) It's a strange group, but together they will fill in the empty gaps of Bittercreek Alehouse's half-seated dining room.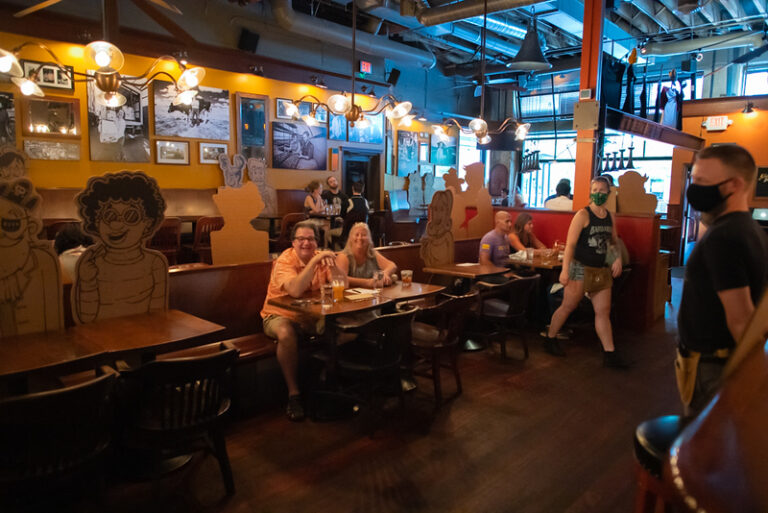 If you've visited Bittercreek in the last week or two, you will have noticed this unusual crowd of diners filling up tables. As part of its social distancing policy, the dining room will only seat 50% of its usual capacity. But nothing looks more depressing than a half-empty restaurant. So Bittercreek put a local artist on the scene to turn this half-empty room half-full.
Kelly's art is recognizable to locals, from street art dispersed in the community's many alley murals to independent business graphics (such as the 2020 Goathead Fest poster). His art style doesn't quite fit in on fancy gallery walls. Honed by twenty years of illustrating, Kelly's work channels a grittier, darker, down-to-earth energy that can be found at a skatepark, an alley —or a local alehouse.
As the reopening of Bittercreek drew close, Head of Operations David Roberts reached out to Kelly with the goal of using local art to liven up the empty half of the dining room. Armed with a pile of cardboard and thirty sharpies, Kelly got to work imagining, designing and free-handing the "temporary diners."
"David really gave me free range," says Kelly. "He wanted a fifty-fifty split of normal diners and fantastical characters. So we made a mix of positive characters that make you kinda wonder what their story is or who they'd actually be."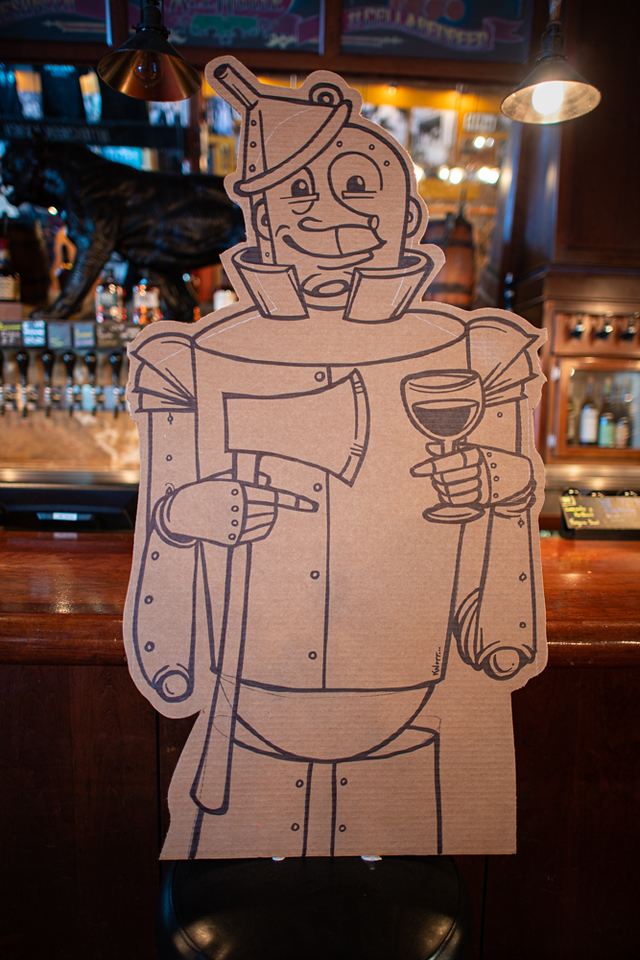 So sure, you might be seated next to a normal looking man or woman. On the other hand, your table neighbor might be a man toasting you while a beer pops out of his head, a masked wrestler or, Kelly's personal favorite, the Wizard of Oz's Tin-Man smiling flirtatiously over a glass of wine.
However, the hope remains that these fantastical diners will truly be temporary, replaced in a few months by the true life of the party: flesh-and-blood customers.
"If you're going to do something with art, usually you're thinking about using something that won't dissolve over time," Kelly says. "But this work is very much temporary. Eventually the cardboard is gonna fade or it's gonna curl or someone's gonna bump the edges. So it's kinda fun in the way that it is very temporary. This whole situation is hopefully not permanent and will resolve itself."
This collaboration with Bittercreek Alehouse may not be a permanent fixture post-pandemic, but Kelly has a more concrete project on the horizon: a children's book on strange Idaho history, guided by his fictional character, Belmont the Beaver, which will be released in a matter of weeks.
To see Kelly's art portfolio and his new book, visit knoppart.com